5 Podcasts to Help Heal Your Mind & Body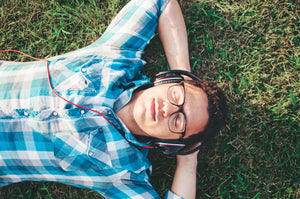 A 2016 study out of UC Berkeley found that listening to narrative stories (such as podcasts) can stimulate multiple parts of the brain, such as our memories and emotions. 
↓
share
Whether you love to listen to podcasts when you exercise, commute to work, or make dinner, chances are you're always discovering something new and interesting when you're tuned in. What if that new and interesting thing made a difference in your long-term health? After all, a 2016 study out of UC Berkeley found that listening to narrative stories (such as podcasts) can stimulate multiple parts of the brain, such as our memories and emotions.1 When the subject of the podcast is positive psychology or wellness, there's even more reason to take time to listen. To help you heal your mind and body this year, we've rounded up the best podcasts in 2021, from The Happiness Lab with Yale professor Laurie Santos to Metta Hour with Sharon Salzberg.   
The Happiness Lab  
Based on her celebrated "Psychology and the Good Life" course–the most popular course in Yale History–psychologist Dr. Laurie Santos hosts The Happiness Lab, a podcast that explores the latest scientific research on happiness.2 Each evidence-based episode focuses on a particular aspect of happiness and shares inspiring stories and insights from esteemed guests about topics that range from the contagiousness of happiness to the power of a made-up ritual. 
Food Psych
Intuitive eating dietician Christy Harrison challenges you to break away from diet culture and make peace with food for good in her Food Psych podcast.3 Each episode features a guest — which may be an anti-diet activist or psychology expert — speaking about their relationship to food and path to body acceptance and healing. By exposing the harms of restrictive behaviors and inviting you to liberate your body and mind, the inclusive podcast aims to help you redefine health and wellness when it comes to eating. 
Hurdle  
Featuring guests that range from entrepreneurs to athletes talking about how they overcame adversity, Hurdle with Emily Abbate explores what it takes to follow your deepest passions.4 Her mission is to inspire listeners to be their best selves, to move with intention, and to have some fun along the way. Full episodes are released on Mondays and Wednesdays, while on Fridays listeners can tune in for a 5-minute lesson such as how to stay positive when things go wrong and how to allow yourself to "think big and dream crazy." Daring listeners to consider their own #hurdlemoments and how they can learn from them, this podcast is infused with motivation, helping you to feel more confident and capable with every listen.
Stronger Minds   
Covering everything from food and nutrition to psychology and mental habits, the Stronger Minds podcast focuses on helping you build a healthier brain and stronger mind.5 Hosted by psychologist, author, and Great British Bake Off alum Kimberley Wilson, Stronger Minds shows listeners how food, exercise, rest, and other habits affect brain health. The podcast includes an engaging book club and Q&A's with dietitians, mental health experts, bloggers and more. 
Metta Hour with Sharon Salzberg   
Bringing Buddhist wisdom to everyday life, Metta Hour with Sharon Salzberg shares interviews with top leaders and speakers in the mindfulness space along with inspiring artists and authors.6 Covering topics that range from healing collective trauma to redefining love as a muscle to be honed, Metta Hour introduces Buddhist teachings in relatable, actionable ways to be implemented into your life. Guests have included bestselling author Jack Kornfield, poet Yung Pueblo, Afro Flow Yoga founder Leslie Salmon Jones, and a variety of meditation teachers. As a meditation pioneer, world-renowned teacher and bestselling author, Sharon Salzberg brings compassionate and extensive knowledge of Buddhist teachings to this enlightening podcast.
Add podcasts to your healthy habits regime in 2021. Check out some other healthy habits here.
---
References: 1https://pubmed.ncbi.nlm.nih.gov/27121839/, 2https://www.happinesslab.fm, 3https://christyharrison.com/foodpsych, 4http://www.eabbate.com/hurdle-podcast, 5https://www.kimberleywilson.co/podcast,6https://www.sharonsalzberg.com/metta-hour-podcast/
Sign up now for a healthier inbox.
20% off your first purchase. We respect your privacy.