5 Best Health & Wellness Apps 2021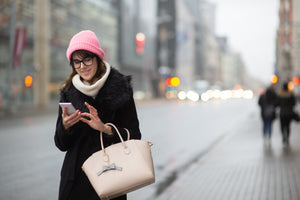 With studies showing that mindfulness improves immune function just like exercise
does, there's no better time to get started. 
↓
share
Prioritizing health and wellness will be easier in 2021 thanks to emerging technology. From meditation apps like Headspace to fitness tools like Nike Run Club, there are a variety of forward-thinking platforms designed to make healthy habits convenient and more fun this year. Covering everything from mental health to physical wellbeing, here are our top 5 picks for the best health and wellness apps to try in 2021. 
Portal 
Want to get away? Portal is a wellness app that transports you to some of the most beautiful places in the world via immersive 3D sounds, ultra-high definition motion visuals, and Philips Hue integration for a captivating ambient experience.1 From the Himalyan mountains of Nepal to the Amazon rainforest, Portal invites you to tap into your wanderlust from the comfort of your home, whether your aim is to sleep better, meditate, or simply drift away to an alluring soundtrack. Portal is free to download on iPhones and iPads.
Headspace 
Rated by The New York Times as the "best meditation app,"2 Headspace offers guided courses to enhance mindfulness and short meditations for even the busiest people.3 Headspace is also highly individualized, with meditations that are specific to different types of users, like meditations for parents, meditations for loneliness, meditations for financial stress and so on. The app also offers a vast collection of relaxing sleepcasts, music, and sounds to help improve the quality of your sleep. Headspace is available on Apple iOS and Android devices. There is a free trial available as well as monthly and yearly subscriptions.  
Be Prepared

Be Prepared.

Fight off and recover quickly from colds, flus, coughs and allergies in the healthiest, way possible.
Insight Timer  
Insight Timer contains the largest library of free meditations with over 80,000 to choose from accompanied by a built-in timer to help you customize your routine.4 There's even a free course to teach you how to meditate if you're a newbie. Insight Timer also offers streaming live yoga classes, which can be cast directly to your Smart TV. Like Headspace, Insight Timer wants to help you sleep better too. There are sleep meditations in the app, sleep music, sleep talks, and courses on improving your sleep hygiene. This wellness app is also beloved by workplaces because it contains an option called Circles, a free mindfulness program designed to bring workmates together. Insight Timer is free to download on Apple iOS and Android devices. 
Nike Run Club   
Don't want to sit down and meditate? Try getting up and running with the Nike Run Club app.5 Giving users the guidance, inspiration, and innovation they crave to become a better athlete, Nike Run Club offers guided runs, acting as a coach that lives in your head, fueling you with the motivation you need to hit new milestones. The app also empowers you to track your progress, including your pace, distance, heart rate, and more. There's also a social component to using this app, allowing users to  compare and compete with friends and fellow runners. Nike Run Club is free to download on Apple iOS and Android devices. 
Glo   
Enjoy unlimited access to yoga, meditation, and Pilates classes with Glo.6 There are 16 styles to choose from, a global network of world-class instructors, and the ability to personalize one's practice based on a series of simple questions. While there are 4,000 classes available on-demand, users also have the option to join a live class to benefit from that contagious group energy. There's a 7-day free trial and then a monthly subscription fee. Glo is available on Apple iOS and Android devices.   
In 2021, it's easier than ever to look after your health with one of these highly-rated apps. With studies showing that mindfulness improves immune function7 just like exercise8 does, there's no better time to get started. These apps can help you strengthen your body and your immune system to help reduce the chances of getting sick. But in case you do catch a cold, flu or cough, consider trying Brillia Health. Our products help your body heal itself without using harsh chemicals or dampening your system. You can learn more here. 
---
References: https://portal.app1, https://www.nytimes.com/wirecutter/reviews/best-meditation-apps/2, https://www.headspace.com3, https://insighttimer.com4, https://www.nike.com/nrc-app5, https://www.glo.com6, https://www.ncbi.nlm.nih.gov/pmc/articles/PMC4940234/7, https://www.sciencedirect.com/science/article/pii/S20952546183010058
Brillia Health Newsletter:
Get a whole bunch of wellness
right in your inbox.