4 Simple Fall Dinners To Support The Whole Family's Immune System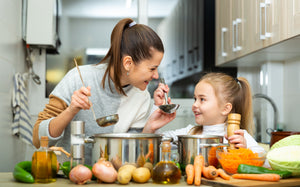 It's finally Fall and time for cozy sweaters, pumpkin carvings, and warm comfort foods. And now that the leaves have started to change and the weather begins to cool, we can incorporate all of the Fall fruits and veggies that are now in season. Keeping our immune system up during this time is super important as we move into cold and flu season, and adding in a variety of nutrients is the key to doing so. 
Prioritize Veggies In Your Meals
The balance of the plate when serving yourself and your family is crucial to make sure you're getting enough nutrients. Ideally, half your plate, or the serving of the meal you're having, is veggies and/or fruits, 1/3 is protein and 1/3 is a combination of healthy fats and carbs. Of course it can be hard to measure this to perfection every time, so we've compiled a few of our favorite, simple Fall recipes that are packed with vitamins and minerals.  
Soup Season
There's nothing quite like a warm bowl of soup on a chilly Fall day, and a major added plus if it's filled with the immunity boosting vitamins we need to stay healthy during the cold weather. 
Carrot Ginger Turmeric Soup 
This first soup recipe is inspired by Sarah Gold Nutrition, and it contains ingredients that are known for their anti-inflammatory properties in order to help your immune system fight off any cold or flu symptoms coming your way.4
What you'll need: 
1 Tbsp olive oil
1 small yellow onion, diced
1 lb carrots, diced into 1/2-inch rounds
1-inch knob ginger, finely diced
1/2 inch knob turmeric, peeled and finely chopped. Or 1 tsp turmeric powder.
1/2 tsp Kosher salt
4 cups low-sodium vegetable broth
1 cup full-fat coconut milk
Freshly ground pepper
Stovetop instructions:
Heat olive oil in a large soup pot over medium-high heat. Add in onion and carrots and saute until soft - about 5 minutes. Then add in ginger and turmeric, and saute for another 1-2 minutes.

Pour in broth and add salt. Bring to a boil. Once boiling, bring down to a simmer for 20 minutes.

When done simmering, either use an immersion blender or transfer soup to a regular blender and blend until smooth.

Stir in coconut milk and pepper and serve!
Ginger and turmeric are some of the most beneficial foods we can include into our diet. Ginger is great for our gut health and has super powerful antioxidants known for their anti-inflammatory effects on the body, and can even help to fight off infections.1 Turmeric contains the compound curcumin, which is also an incredibly strong antioxidant. It can also help to fight off inflammation, allowing our immune system the capacity to focus on other foreign invaders during the cold-flu season.2
Vegan Butternut Squash Soup
This next soup recipe is so comforting and full of Fall flavors we know and love, and was originally created by The Clean Eating Couple.5 
What you'll need:
1 tablespoons olive oil
2 lbs butternut squash cut in 1 inch pieces, about 5 cups
1 cup carrots diced
½ cup onion diced
1 tablespoon garlic minced
1 quart vegetable stock
1/4 teaspoon pepper add more to taste
1 teaspoon paprika
½ teaspoon salt
½ teaspoon cinnamon
½ teaspoon turmeric
Stovetop instructions:
Heat olive oil in a large pot over medium heat. Add in squash, carrots, onions and garlic and saute until squash has browned edges.

Add stock and spices to the pot and bring to a boil. Once soup is boiling, reduce heat and simmer for 30-40 minutes. 

Use an immersion blender or transfer to a regular blender and blend until smooth.
The variety of spices used in this soup provide lots of antioxidants and anti-inflammatory properties. Butternut squash is also rich in Vitamin A and Vitamin C - both very important vitamins to keep our immune system strong.3
Simple, Nutrient Filled Curry
Another very simple Fall recipe (or any time of year) is a curry filled with a variety of veggies. Using just one pan, you can make a delicious and flavorful curry dish for the whole family. Originally inspired by Jessica In The Kitchen, this is one of my favorite healthy comfort foods. Although it looks like a long ingredient list, you likely already have a lot of these in your kitchen cabinet.6
What you'll need:
Tofu marinade
1 16 ounce block of firm or extra firm tofu, pressed for about 30 minutes
3 tablespoons coconut milk
1 teaspoon red curry paste
salt and pepper
Kick your immune system
into high gear while targeting your cold, flu or cough.
SHOP BRILLIA HEALTH
2 teaspoons arrowroot
1 tablespoon coconut oil (to be used after marinade)
1 tablespoon coconut oil
Thai red curry
2 tablespoons red curry paste
1 small red onion chopped
4 cloves garlic minced
1 head broccoli chopped
1 medium red bell pepper chopped
1 medium green bell pepper chopped
1 cup shredded carrots
3/4 teaspoon sea salt to taste
1/2 teaspoon ground black pepper
1 tablespoon coconut sugar or raw sugar
1 tablespoon light soy sauce or liquid aminos or tamari
1 can (383g) coconut milk full fat 
juice of a lime
1/2 cup of brown rice (optional)
Press your tofu in order to remove the excess liquid - Place block of tofu In between two paper towels and place something heavy on top for 15-20 mins. I typically use cookbooks and It does the trick

Cut tofu Into small cubes

In a bowl combine the coconut milk, red curry paste, salt and pepper, and arrowroot for the tofu marinade 

Toss tofu blocks In the mixture, cover the bowl and place In the fridge for 20-30 mins

In a pan over medium-high heat, heat the 1 tbsp of coconut oil. Once hot, add In the tofu cubes and cook until all pieces are browning and somewhat crispy. Remove the tofu from the pan and set aside.

In the same pan over medium high heat, heat the remaining coconut oil. 

Add In the curry paste to fry It, stirring with the coconut oil for about 1 minute. 

Add In the chopped onion and cook until onion Is soft and slightly translucent 

Add in minced garlic, the second tbsp of coconut oil, chopped broccoli, bell peppers and shredded carrots

Add the salt, pepper, sugar, and soy sauce and mix everything together.

Reduce heat to medium, stirring until broccoli Is tender - about 10-15 minutes.

Add in the coconut milk and crispy tofu, and mix everything together. Let simmer for about 5 minutes. 

Serve over brown rice (optional) and squeeze the lime over the curry when ready to eat. 
Easy Vegetarian Chili
Chili is a classic cold weather staple, and by packing it with legumes and veggies, you can have a yummy, immunity boosting meal the whole family will love. This recipe uses a slow cooker, which makes it even easier! You can throw all of the ingredients in and let the magic happen on its own. This simple vegetarian chili recipe was originally created by A Side of Sweet.7
What you'll need: 
1/2 cup olive oil
4 onions, chopped
4 cloves garlic, minced
4 celery stalks, cut 1/4 inches crosswise
4 red, yellow or orange bell peppers, seeded and chopped
1 (15.5 ounces) cans black beans, rinsed & liquid drained
1 (16 ounces) can cannellini beans, rinsed & liquid drained
Sign up now for a healthier inbox.
20% off your first purchase. We respect your privacy.
1 (16 ounces) can pinto beans, rinsed & liquid drained
1 (16 ounces) can kidney beans, rinsed & liquid drained
1 (14.5 ounces) can of diced tomatoes
4–6 tablespoons chili powder, depending on your preference
2 tablespoons dried oregano
2 teaspoons salt
2 teaspoons ground cumin
1/2 teaspoon ground black pepper
2 tablespoons distilled white vinegar
1 tablespoon hot sauce (can leave out for little ones)
Instructions:
Heat olive oil in a pan over medium heat on the stove. Saute the onions and garlic until they soften for about 2-3 minutes.

Add peppers and celery into the pan and saute for another 5 minutes, until they are light browned and soft.

In your slow cooker, add in the beans, vegetables, diced tomatoes, spices, vinegar and hot sauce. Stir to combine and cover. Cook on low heat for 6-8 hours

Serve with shredded cheese, chopped green onion and plain greek yogurt or sour cream (optional)

 
Comfort Food Can Also Be Healthy
Cozy, Fall nights don't have to mean that all nutrients go out the door. By fueling our bodies with vitamins and minerals they need to perform optimally, we can help ourselves avoid getting sick in the coming cold-flu season. Of course, it's never a guarantee that the kids won't catch something at school or we won't when we're out and about, but prioritizing veggies in our meals as much as we can can significantly reduce the risk. 
And if you do happen to catch the cold or flu this year, there are now great
homeopathic medications to help relieve cold and flu symptoms
, so you can safely know what's going into your and your family's bodies before, during and after a cold.  
Happy Fall!
---
References: 1https://www.healthline.com/nutrition/11-proven-benefits-of-ginger#11.-Can-help-fight-infections, 2https://www.healthline.com/nutrition/top-10-evidence-based-health-benefits-of-turmeric#TOC_TITLE_HDR_5, 3https://www.healthline.com/nutrition/butternut-squash#nutrition, 4https://www.sarahgoldrd.com/immune-boosting-carrot-ginger-soup-instant-pot/https://www.sarahgoldrd.com/immune-boosting-carrot-ginger-soup-instant-pot/, 5https://thecleaneatingcouple.com/paleo-butternut-squash-soup/, 6https://jessicainthekitchen.com/vegan-thai-red-curry-with-tofu/, 7https://asideofsweet.com/best-vegetarian-slowcooker-chili/