2021 New Guidelines For Kids Cold & Flu Medicines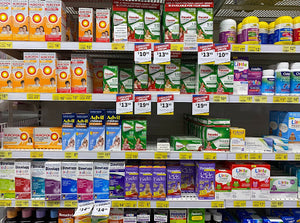 When your child starts to show signs of the common cold and/or flu, the initial reaction is to help get them feeling better fast, and not let symptoms worsen. Let's take a peek at the 2021 guidelines for giving children cold and flu medication, as well as symptoms to watch for, how to choose the right medication, and potential risks and precautions that need to be taken into consideration. 
Current Guidelines
The new guidelines for kids medication from the FDA include:1
Under the age of 4, cold and flu medicines should not be administered to children. 

Children should only be given medicines designed for their age group, not geared toward adults. Make sure the box is labeled "pediatric" or gives the appropriate age for which to consume.

If other medications are being taken by your child, it is extremely important to talk to your doctor before giving any other OTC medications and/or prescriptions. 

Follow the dosing instructions on the box carefully. This includes using the proper measuring device that comes with the medication.

If your child's symptoms do not improve within a few days of taking the medication, consult your doctor immediately. 
New Recommendations
There is an ongoing discussion as to the safety of kids' cold and flu medicine, and if the potential risks outweigh their effectiveness. This is especially the case in children under the age of 2. The FDA has stated that the issues in OTC cold medicine for children have a lot to do with consuming more than the recommended dosage and/or given too frequently. When more than one medication is being given to treat your kids cold and flu symptoms, each containing the same active ingredient present, a potential "overdose" could occur. After continued research, the Consumer Healthcare Products Association extended this "warning" to older children as well, now advising to not use if under 4 years old.2
Choosing Cold and Flu Medications for Your Kids
Since your child's body processes medications differently than an adults, you want to eliminate the potential side effects as much as possible!3 When choosing cold and flu medications for your kids, here is a quick breakdown of what is age appropriate for traditional OTC medications you find at the drugstore:  when choosing cold and flu medications for your kids:
Under Age 4: Absolutely no OTC cold and/or flu medication

Age 4-6: Can be taken but only as prescribed by your child's doctor

Ages 6+: Can be taken as directed on the box
There are, however, other ways to treat a cold and flu which include homeopathic medications; a much safer, more impactful way to help your child feel better (and recover) faster. With Brillia Health, our products
target the very source of the symptoms and
work naturally within the body to boost the immune system, without the use of harsh chemicals and harmful side effects. What's even better is they are safe for children as young as 1 for our
Cold/Flu Recovery
and as young as 3 for our
Cough Control
.
Here's exactly what the active ingredients in Brillia Health's Cold/Flu Recovery do:
Controls the histamine response, which causes fluid buildup and symptoms like congestion, inflammation, stuffy or runny nose

so it stops inflammation and controls the production of fluids at the source.

Boosts CD4, a specific type of immune cell that fights viruses

Activates Gamma-Interferon, which rallies many different kinds of immune cells to attack the virus
Potential Risks
Sign up now for a healthier inbox.
20% off your first purchase. We respect your privacy.
With the effectiveness of kids' cold and flu medicine still having doctors concerned, it's advised for parents to not give any traditional OTC medications you find at the drugstore to children under the age of 4 (under age 6 as prescribed only by a doctor). Research continues to show that children in this age group may be at a greater risk for potential side effects; some of these include but are not limited to an upset stomach, vomiting, seizures, drowsiness, and even an increase in heart rate.4 
One of the best ways for kids to heal from a cold or flu is time, lots of fluids, and rest.5 Holistic approaches are an amazing way to support these efforts, naturally.
And if you feel that you need more help to control their symptoms,
Brillia Health's products
are a wonderful alternative to OTC medications since they naturally support your child's immune system and reduce the symptoms of their cold & flu, all while helping them get back to their normal selves faster!
Find out more about why these products work!
---
References: 1https://www.webmd.com/cold-and-flu/kids-cold-medicine-safety-information, 2https://www.verywellhealth.com/before-you-buy-childrens-cold-medicines-2632309, 3https://www.healthgrades.com/right-care/cold-and-flu/choosing-cold-medicine-for-your-child, 4https://www.childrens.com/health-wellness/cold-medicine-and-kids#:~:text=Over%2Dthe%2Dcounter%20medicines%20can,risk%20for%20these%20side%20effects, 5https://www.healthline.com/health/cold-flu/tips-treating-kids