Immunity-Boosting Supplements To Add To Your Juices & Smoothies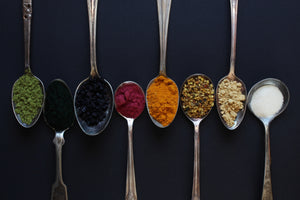 You already know that drinking whole-food juices and smoothies is good for your body, including your immune system. However, did you know that you can customize the health-boosting benefits by adding specific supplements to your favorite blends?
Spirulina
Spirulina is a type of blue-green algae with a surprising amount of protein. Dietary protein helps your body regenerate after illness or surgery. However, the real power of spirulina lies in its anti-inflammatory and antioxidant properties. Because of its bitter taste, this superfood is not something most people want to eat by the spoonful, so adding it to a delicious fruit and vegetable smoothie is the perfect solution.
Chia Seeds
The humble chia seed has many healthful nutrients, including protein, fiber, zinc, and calcium. However, it is also full of omega-3 fatty acids. Omega-3 fatty acids have been proven to lower blood pressure and cholesterol as well as decrease overall levels of inflammation in the body. More than half of the oil of a chia seed is omega-3. To add chia to your smoothie, first soak some of the seeds in water, juice, or milk at a ratio of one part chia seeds to four parts liquid. Allow the mixture to stand for about 15 minutes (it will turn into a gel), and then gently stir the gel into the finished smoothie.
Kick your immune system
into high gear while targeting your cold, flu or cough.
SHOP BRILLIA HEALTH
Green Superfood Powder
Although the ingredients of green superfood powders vary, they often include green vegetables, wheatgrass, seaweed, spirulina, and other fruits and vegetables. Some also contain green tea extract or digestive enzymes. Adding a packet or scoop of green superfood powder to your daily smoothie or freshly extracted juice can boost its nutritional content by adding antioxidants and vitamins, both of which may help to boost your immune system.
Flaxseed Oil
Flaxseed, also called linseed, is well-known for its ability to boost heart health and boost the immune system. Many people sprinkle ground flaxseed over oatmeal or add it to baked goods. You can even add water to the flaxseed oil and use it as an egg substitute in baking. However, to get the health benefits of flax in a smoothie, flaxseed oil is probably your best bet. Flaxseed oil doesn't take heat well enough to be a good cooking oil, but you can blend it into a smoothie and ingest it that way. Although flaxseed is a good source of omega-3 fatty acids, the kind it has may be less bioavailable than other types. However, the other beneficial compounds in flaxseed oil make it a winner when you are trying to support your immune system through dietary changes.
Hemp Protein Powder
Protein intake is highly important to your overall health for many reasons. Protein is found in your bones, muscles, skin, blood, and cartilage. It is used to repair and build tissues, while also being used to make hormones and enzymes. Adding hemp protein powder to your daily smoothie is an excellent way to increase your protein intake. You can use hemp protein powder just as you would whey protein. However, if you are trying to avoid dairy or animal products in general, hemp protein is the better choice. Hemp protein also contains fiber, as well as an ideal balance of omega-3 and omega-6 fatty acids, which are known to be good for your heart. The potent antioxidants that hemp protein provides are protective and may help boost your immunity and resistance to chronic diseases. Because hemp protein has a strong, earthy taste, remember that a little goes a long way in a smoothie filled with other antioxidant-rich foods.
Brillia Health Newsletter:
Get a whole bunch of wellness
right in your inbox.
Making changes to your diet in order to improve your immune system is of utmost importance, especially during the flu season. You are doing yourself a grand favor by adding the suggested supplements to your daily smoothies. If you find yourself getting sick, look into other holistic approaches that can combat your cold and flu symptoms, such as
Brillia Health
. These homeopathic products work with your immune system to shorten the duration of your cold-flu and help control your symptoms without harmful side effects. Feel good about what you put into your body and maintain a healthy lifestyle.