The Link Between Allergies & Fatigue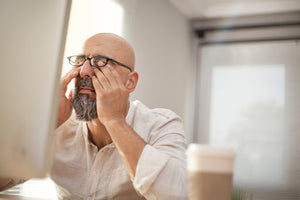 While many of us already know the telltale signs of seasonal allergies, from nasal congestion to itchy, watery eyes, fatigue is also a common symptom of allergies. In fact, studies show that over 60 percent
of allergy sufferers struggle with fatigue.1 Find out what causes allergy-related fatigue, how allergies may affect your mood, and how Brillia Health can help.
Can Allergies Make You Tired?
Studies have consistently shown that fatigue is common among those with allergies. Whether your allergies are triggered by seasonal changes, dust and pet dander, or spores from fungi or mold, daytime tiredness appears to be even more common than itchy eyes and postnasal drip
.2
According to
Catherine Monteleone
, M.D.
, an allergist-immunologist and professor at Rutgers Robert Wood Johnson Medical School, this general sense of fatigue
can make
"you feel like you're not able to think as clearly," and is often likened to brain fog.3
Why Allergies Affect Your Energy Levels
Some experts say that allergy-related fatigue is the result of the body's inflam
matory response. According to Mark Aronica, M.D., the body tries to counteract allergy symptoms with cytokines, proteins that help your body fight foreign substances. The cytokine release causes inflammation, which leads to a congested nose, disrupted sleep patterns, and the inability to get a good rest. Aronica explains, "Chronic inflammation from allergies can lead to that foggy feeling," he says. "And, you'll end up not functioning well."
The Impact of Allergies On Our Mood  
In addition to fatigue, allergies may also affect your mood. Studies have indicated that
there is a correlation between clinical depression and allergies, with the mood disorder being twice as high
among allergy sufferers.4 Experts believe this is because allergies can have a profound impact on a person's quality of life, including their sleep patterns and productivity levels. Cytokines may also play a role here. In addition to causi
ng inflammation in the nasal passages, they also cause inflammation in the prefrontal cortex in the brain
, a discovery that could explain some of the mood changes so commonly found in those with allergies.5
Kick your immune system
into high gear while targeting your cold, flu or cough.
SHOP BRILLIA HEALTH
How Brillia Health Can Help
While you may be tempted to seek relief from your allergy symptoms with over-the-counter medications that contain antihistamines, these may actually induce drowsiness during the day. Brillia Health's products take a gentler approach in treating allergies and reducing inflammation in the body without harsh side effects, including drowsiness. Using antibodies to bradykinin and histamine, two molecules that trigger the inflammatory response in the body, the non-prescription medication controls your body's allergy symptoms at the very root. Brillia Health's active ingredients relieve the nasal congestion that leads to poor sleep and brain fog
while working with the body's natural healing process to stabilize the release of histamine and relieve allergy symptoms without impacting other systems in the body. 
There are two options to try when battling allergy symptoms. If you are suffering from nasal congestion, sneezing or runny nose, try
Brillia Cold & Flu Recovery
. Or take
Cough Control
if you're struggling with a persistent wet or dry cough or chest tightness. Both products can also be safely taken together or taken in conjunction with other medication because there are no contraindications. Find out more about how
Brillia Health products work
. 
In addition to taking Brillia Health's products, you can also reduce allergy-related fatigue and brain fog by limiting your exposure to allergens, using a neti pot, and drinking plenty of water. Some people also find that immunotherapy, or allergy shots, can help them manage their symptoms. Finding out what's triggering your allergies is also a crucial step in feeling better faster. Consider visiting an allergist for an allergy test and visit a site like ACAII
for resources and tips on dealing with allergies.6
Brillia Health Newsletter:
Get a whole bunch of wellness
right in your inbox.
Erica Garza is an author and essayist from Los Angeles. She holds an MFA from Columbia University and a certificate in Narrative Therapy. Her writing has appeared in TIME, Health, Glamour, Good Housekeeping, Women's Health, and VICE.
---
References: 1https://www.sciencedirect.com/science/article/pii/S1323893015002129, 2https://www.verywellhealth.com/do-allergies-affect-your-mood-or-energy-level-82837, 3https://www.prevention.com/health/a35797657/can-allergies-make-you-tired/, 4https://consultqd.clevelandclinic.org/risk-of-depression-is-twice-as-high-in-patients-with-nonallergic-rhinitis-study-finds/, 5https://link.springer.com/article/10.1007%2Fs11940-008-0039-4, 6https://acaai.org/resources